Bodhi's Story
I took a pregnancy test at New Direction. I already knew I was pregnant for a few weeks, but I was very much in denial. When both the home tests came back positive, I sat on the bathroom floor sobbing. My life was over.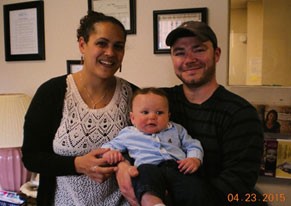 Besides the fact that mentally we were not ready for a baby, I didn't have health insurance; we were renting a house that was for sale; we had two cars that only worked some of the time, and we didn't have much money saved up. Because that just wasn't enough stress, the Berkshire County Hospital closed days before our first appointment. While the BMC helpline people were very nice, nobody could even give me a projected date for a first appointment.
My mom worked closely with the Pregnancy Center…literally across the hall at the Family Place at Northern Berkshire Community Coalition. She mentioned the Center to me. I was hesitant. I'm shy and don't like to ask for help. So far, nothing was working out for us, so I was afraid to be disappointed again, but I agreed to check it out.
I met with Sue Brandon. I took a pregnancy test which was positive. She told me about the Center and gave me a syllabus of lessons. I saw the boutique and baby bucks. It seemed like a good chance to learn and earn free baby things…who doesn't like free stuff! I also liked the one-on-one set-up, more my style. I was impressed with how concerned about my privacy the Center was. They asked if, when they called me, I'd want their number to show up as blocked. They even asked if they saw me in public if they could acknowledge me.
Joe and I started meeting with Sue every Thursday. We learned all about how the baby was growing. We learned when he could see light and hear. We learned he was moving around, even before I could feel him in there. We learned about what to expect when the baby came. It's perfectly fine to be scared and unsure. That was a relief. Everybody just talks about how exciting it is to have a baby…
Not how frightening it is. I was worried. I was unsure more than anything. The videos we watched of expecting parents put my mind at ease. We also had a few lessons for Joe about how to help during the pregnancy, the birth and after.
Did you know that changing a diaper is the baby's first experience of playing? Speaking of diapers, we didn't need to buy any for the first few months. We stocked up with our baby bucks and had a closet full.
We also learned about the birthing process, the breathing and pain management. We were unable to take a traditional birthing class because of the hospital closing, but we didn't really need to. We learned what we needed at the Center. When I was initially forming my birth plan, my main focus was getting the baby out as quickly and painlessly as possible. I had every intention of having as much epidural medicine as I could. I had always planned on nursing the baby, but only because it was free. After a few lessons on nursing, I realized it was an incredible opportunity for both the baby and I. He would have the chance to be healthier and smarter than if he was bottle-fed. I would also have health benefits such as a smaller chance of post-partum and some forms of cancer. This, in turn, changed my whole view on birthing. If I had an epidural labor, it would be longer and harder, and the baby would be groggy. Our instant bond would be somewhat muted due to both of us being under the effects of the epidural. I knew what I had to do. I was scared, but I like a challenge, so I met it head-on. Sue gave us DVD's to take home so we could practice breathing and other pain management techniques like visualization. Watching those and doing the homework together really gave Joe and I a chance to bond over an experience neither one of us initially was too sure about. He came to every class but one.
Bodhi Quinn Annichiarico was born November 15, 2014, two weeks overdue, ten fingers and toes and a healthy 8 lbs. 15 oz. We stayed tucked in for the winter, not going to many places, but we knew as soon as it got a little warmer and safer for Bodhi to be out and about that we wanted to go back to the Center. We were unable to come on Thursdays because of my work so, after a few quick visits, Sue said that she'd be willing to come in on Tuesdays if that worked for us, so we were soon back to attending once a week. We learned about safety and first aid. We learned about how to get him to sleep through the night. Neatest of all, we got to learn about how he's physically and mentally developing as it's happening.
Despite our rocky start and so many uncertainties during the pregnancy, we were and continue to be truly blessed by the constant support of Sue and the Center. Everything else just fell into place, and we couldn't be happier with our healthy, happy baby boy.